Chabad Mother Describes How She Escaped Surfside Building Collapse With Her Children Just Before It Fell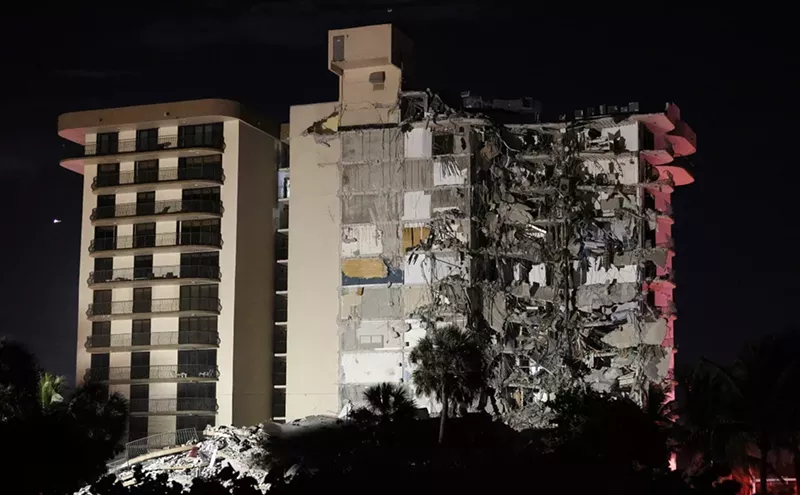 Surfside Building Collapse — While the world looks on in horror some stories of miraculous survival are already being told, like that of a Chabad mother who saved her family.
Sarah Nir, a Chabad mother of 6, returned from a Hisvaadus [Chabad spiritual meeting] at 12:30 A.M and heard strange noises in the building. She thought that somebody was doing renovations but couldn't understand why they were doing them at such an hour. Nir woke her 15-year-old and 25-year-old children who were with her (her husband and other children were out of town) and went to the building's guard on the ground floor to complain about the noise, which was getting louder. Suddenly she saw the car park filling with debris and told her children to run outside since there was "an earthquake."
The 15-year-old girl complained that she was in pajamas but her mother cried hysterically that she should run out quickly. The girl took two towels and wrapped herself and the three ran out and saw the building crumbling in front of their eyes.
Sarah, still convinced that it was an earthquake, continued running around the streets with no way of contacting others, since her phone was in the collapsed building. A person stopped her and offered help, stating that he was Jewish and had served in the IDF. He took her to a local hotel and found her a room, which was later paid for by the Red Cross.
Sarah told "B'Chadrei Chareidim" that "Hashem gave me signs, I came back late from the Hisvaadus, so I wasn't asleep, Hashem gave me signs to run away and I did so."
Gavriel Nir, Sarah's son, told Israel's Channel 13 that the collapse occurred in three stages and took a few minutes. First, he and his family heard noise from above and saw dust falling. They then heard a boom that they thought was an earthquake and rushed out of the building. Finally, from outside, they saw the collapse, with white clouds of dust following them as they ran.
"If it wasn't for my mom, it would have been very bad… she figured out something was not right," Nir says.