Jewish People Mourn the Loss of Rabbi Dovid Feinstein. Updated with Levaya Information.
Click below to watch the livestream of the levaya of Maran HaGaon Harav Dovid Feinstein, zt"l.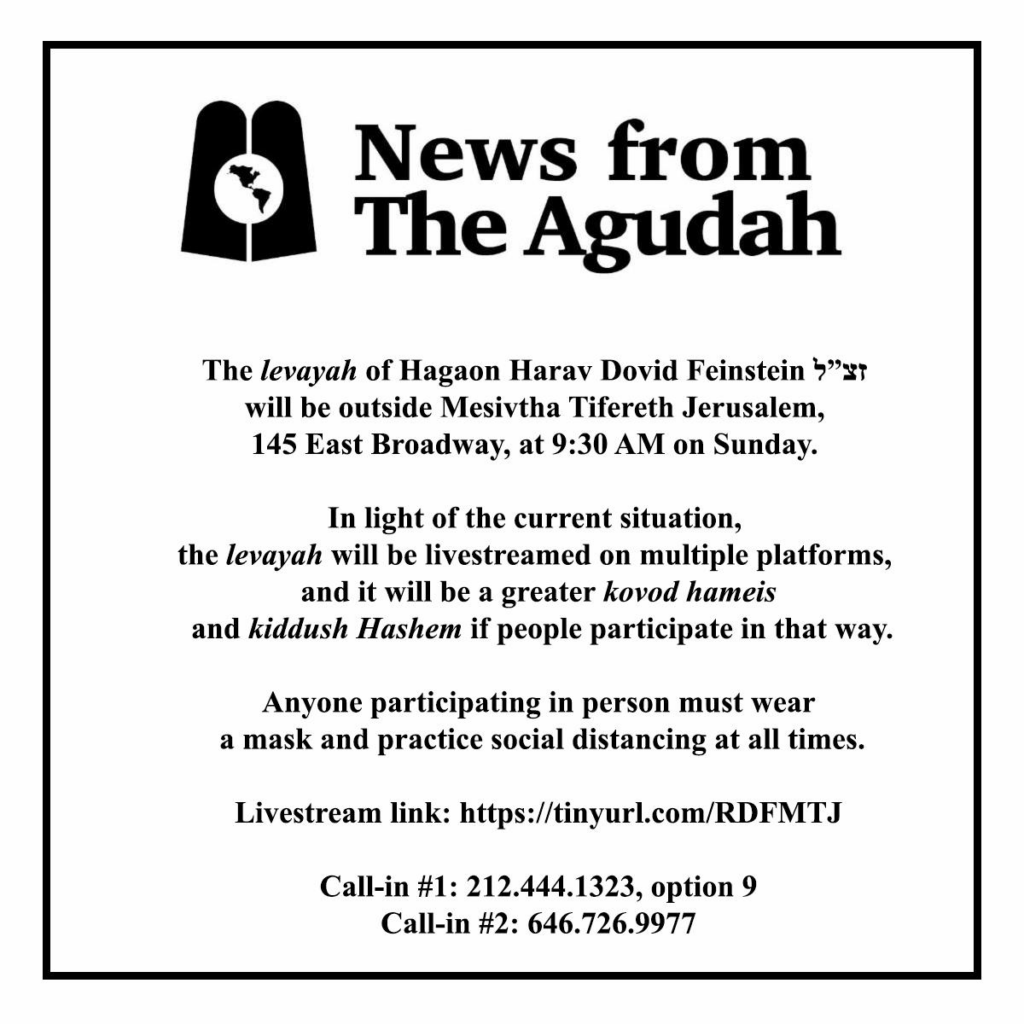 NEW YORK (VINnews) — Rabbi Dovid Feinstein, the son of Rabbi Moshe Feinstein and one of the most prominent poskim and Roshei Yeshiva in America, passed away Friday afternoon at the age of 91. Rabbi Feinstein, a member of the Agudath Yisrael's Council of Torah Sages and the Rosh Yeshiva of Tifereth Jerusalem, had felt weak recently and had been hospitalized but passed away on Friday.
Rabbi Feinstein was known worldwide for his incisive rulings on halachic issues and for his deep humility. He was the author of many books and gave answers to the hundreds of questions which he received daily on a multitude of issues.
Rabbi Feinstein was born in 1929 in Lyuban, Russia, where his father was serving as the rabbi. His parents called him David after Rav Moshe's father, Rav Dovid, who was a renowned Talmid Chacham and a descendant of Rabbi Avraham, the brother of the Gaon of Vilna. At the age if eight he immigrated to Manhattan with his parents and lived there for the rest of his life.
Rabbi Feinstein represented the authentic and uncompromising stance of Judaism in the American ambience of independence and freedom of religion. His humility coupled with his true greatness made him a lodestar for thousands of American Jews, but he did not take notice of this and continued to act as a simple person without portraying himself as the leading rabbinic figure that he was.
When Rabbi David Feinstein celebrated his Bar Mitzvah, he took on a practice which would change his entire life. He felt that since he was born during the week of Parshas Korach, he had come to the world to fix the sin of Lashon Hara (evil talk). From this time on he took upon himself to speak sparsely and would often shorten his discussions on general topics and would remain silent. However the Satmar Rebbe, who came to console him after the death of his sister, said that "from Rabbi David's silence I can learn more than any mussar speech I heard in my life."
Rabbi Dovid devoted his life to Chinuch (education) and spent many years working to obtain funds for proper Jewish education in France. When Rabbi Feinstein was fundraising for another institution he was careful not to involve his own institutions. On one occasion he raised funds for a large kollel for which he served as president. The donor wanted to take half of his donation for Rabbi Dovid's own institutions but he refused and said that the entire sum belonged to the kollel.
Rabbi Feinstein is survived by three children, two sons and a daughter, and by his grandchildren and great-grandchildren. A third son died in his youth.