Attention Kosher Supermarkets – It's Time to Boycott the Antisemitism of Ben & Jerry's Ice Cream Company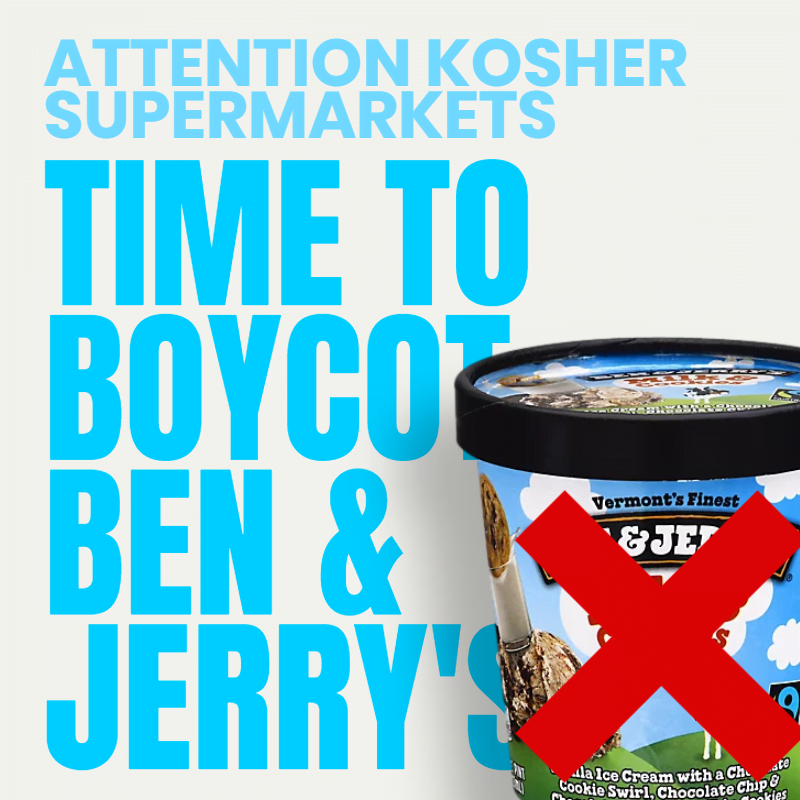 NEW YORK (VINnews) — In an unprecedented and blatantly political move, ice cream giant Ben and Jerry's announced Monday that it would not be selling its ice cream in the OPT- "Occupied Palestinian Territories." The company claimed that selling the ice cream there is "inconsistent with our values" and said that it "hears and recognizes the concerns shared with us by our fans and trusted partners."
Ben and Jerry's, we have news for you: your rash move means that you will be losing quite a few of your "fans and trusted partners", people for whom anti-Israel boycotts are simply another more modern genre of age-old anti-Semitism. Without going into the facts, taking the position that Judea and Samaria are "Occupied Palestinian Territories" is not just a slap in the face to Israel, it is a distortion of reality which was clearly recognized by the Trump administration and has yet to be reversed by the current administration.
Let's take a look at your assertion. The word "occupied" refers to a situation where a conquerer takes possession of land which is not his own and dispossesses the lawful occupant. Far from taking possession of any Arab lands, Israel ceded in the Oslo agreement all the major Arab towns and villages to the Palestinian Authority (PA) and despite the PA's constant refusal to recognize Israel in accordance with the agreements and its insistence on paying terrorists who have killed and maimed Israelis, Israel did not retaliate by reclaiming the Arab-held territory.
Moreover even if territory in Judea and Samaria is suspected of belonging to Palestinians, Israel does not allow Jews to occupy it, and even if there is no legal claim on the land it removes the Jews from that territory. Recently the Israeli court ruled that an olive grove belonging to an Israeli company should be uprooted even without Palestinians proving ownership and even though the company bought the land in good faith from other Israelis. Is this how an occupier behaves?
Next, you refer to the Palestinians. Who exactly are they? The indigenous population of the entire Palestine region in 1870 included 350,000 Muslim Arabs. How are there now more than fifteen times that number? No demographic growth can explain that level of increase and it is obvious that Arabs immigrated to the region in search of work as the Jews arrived and started rebuilding the desolate country. Even in 1948 the Arabs numbered just 1.2 million and most of these were recent emigrants. Thus there are very few Palestinians who can lay claim to any land, much less to an entire region which is the heartland of Israel and whose very names- Judea and Samaria – are immortalized in Scripture which is recognized by all religions including Islam.
As for the word "territories", do Ben and Jerry's believe that Palestinians bought these territories by paying full money for them? Has the learned ice cream manufacturer checked the Turkish registry or the Jordanian registry? Evidently not, because it wouldn't find any proof of ownership of any place which is "occupied" by Jewish settlers at present and would find it difficult to discover proof of purchase even for Arab-held lands. Suffice it to say that most of the Arab villages dotted around Judea and Samaria maintained the Jewish names from thousands of years ago, living proof of the ancient Jewish ownership of these towns.
Prime Minister Naftali Bennett, in response to the decision by Ben & Jerry's:
"There are many ice cream brands, but only one Jewish state.

Ben & Jerry's has decided to brand itself as the anti-Israel ice cream.

— PM of Israel (@IsraeliPM) July 19, 2021
Take for instance the village of Anata, just one kilometer from Mount Scopus or Har Hatzofim in Hebrew. This is clearly the village of Anatot, birthplace of Jeremiah, who would walk from here to Mount Scopus and proclaim his prophecies over Jerusalem in the valley below. How about Givon, the biblical site of war between Abner and David's soldiers? Now it is called El-Gib. Tevetz, the site of the demise of Gidon's son Avimelech is called Tubas and Beit-El is next to Beitin. Gofna, an important Maccabean town mention in Josephus's writings is now called Jifna.
Now we Israelis know which ice cream NOT to buy 🇮🇱💪 https://t.co/j7VNpIWX0f

— Benjamin Netanyahu (@netanyahu) July 19, 2021
Despite the obvious biblical connection to these places, Israel makes no claim to them and presently Jews are prohibited from visiting them. How then can they be described as "occupied"? Ben and Jerry's can surely provide the answers.
The company has now declared that "Although Ben & Jerry's will no longer be sold in the "OPT", we will stay in Israel through a different arrangement. We will share an update on this as soon as we're ready."
ההתיישבות ביהודה ושומרון מוצקה הרבה יותר מגלידה, ועל הכבוד והמורשת הלאומית שלנו בוודאי לא נוותר בגלל חברת 'בן אנד ג'ריס'. אלפי שנים לפניהם אברהם אבינו התיישב בארץ, ואנחנו נשב שם עוד אלפי שנים אחרי שהגלידה שלהם תימס. pic.twitter.com/2genkegfcM

— עומר ינקלביץ׳ omer yankelevitch (@omeryankelevitc) July 19, 2021
Ben and Jerry's, we've got news for you. Don't bother with a new franchise in Israel because most Israelis don't care for your political meddling and will anyway boycott your products from now on. Here's hoping that our American brethren will also join the boycott and then maybe the company will feel the pressure and take a closer look at its warped "OPT" policies.
Oh well. Guess I won't be eating any more of your ice cream. https://t.co/PqCiGInMVa

— Ben Shapiro (@benshapiro) July 19, 2021
One proud American Jew has already joined the boycott
The Israeli Alternate Prime Minister and Minister of Foreign Affairs, Yair Lapid, tweeted on Monday threatening to ask US legislatures to punish Ben & Jerry's over its decision to stop selling its products to Judea and Samaria.
"Over 30 states in the United States have passed anti-BDS legislation in recent years", Lapid tweeted. "I plan on asking each of them to enforce these laws against Ben & Jerry's. They will not treat the State of Israel like this without a response."