Halacha Headlines: The Great Techeilis Debate – Hear the Shitos of the Gedolei Hador and Gedolei Haposkim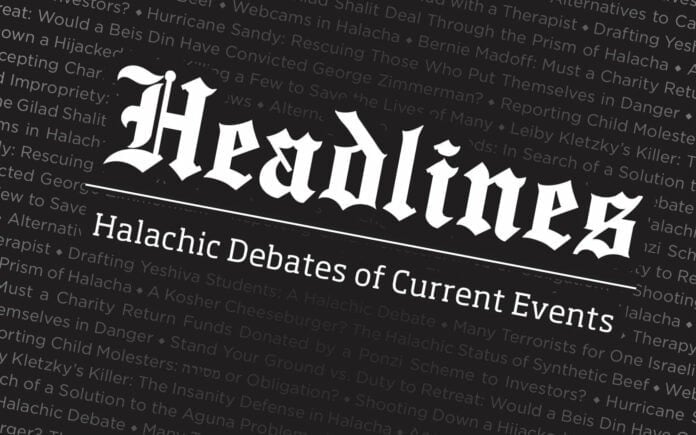 Program
Do we know what the Techeilis is – Is it the murex or the cuttlefish? Are you obligated to wear it because of Safek?
with Hagaon Rav Shmuel Kamenetsky – Rosh Yeshiva of Philadelphia – 20:10
with Hagaon Rav Menachem Mendel Shafran – Av Beis Din Hayashar V'hatov Yerushalayim, Rosh Yeshiva Noam Hatorah Bnei Brak – 20:34
with Hagaon Rav Dovid Cohen – Rov of Gvul Yaavetz, Renowned Posek, Mechaber seforim – 21:30
with Hagaon Rav Herschel Schachter – Rosh Yeshiva & Rosh Kollel YU, Leading Posek of OU – 25:10
with Hagaon Rav Nissin Kaplan – Maggid Shiur, Mir Yerushalayim – 28:26
with Hagaon Rav David Yosef – Rosh Kollel Yachveh Da'at Kollel, Chief Rabbi of Har Nof, Member Moetzet Chachmei HaTorah – 34:57
with Rabbi Bentzion Halberstam, Rav of Khal Chassidim Westgate – 36:03
with Hagaon Rav Moshe Heineman – Rov of Agudas Yisroel Baltimore, Renowned Poseik – 55:40
with Rabbi Michoel Shlomo Bar-Ron – Founder Torath Moshe learning center – 1:11:54
Podcast
Sources
---
Support Our Work
Your gift to DOJLife.com helps us continue our effort to unite the Dallas Orthodox Jewish community by publishing community news, original, stimulating and inspirational content, organization listings, community Classes & Events calendar, Tefilla calendar, classifieds, gemachs, etc., one site designed with everyone in mind. Donations on this page will be charged in $US and will receive a US tax-receipt.
Make a one-time donation
Make a monthly donation
Make a yearly donation
Choose an amount
Or enter a custom amount
$
---
Your contribution is appreciated.
Your contribution is appreciated.
Your contribution is appreciated.
Donate
Donate monthly
Donate yearly
---
Subscribe to Our Newsletter