Mesorah End of Year 2021 Matching Campaign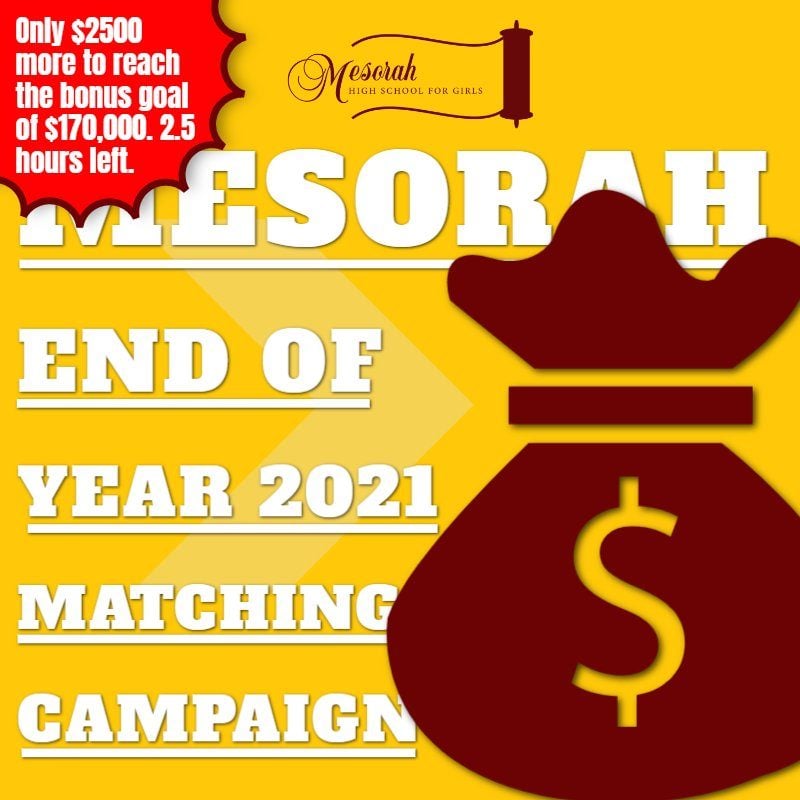 Mesorah has been educating young Jewish women for two decades.
Our graduates have gone on to a wide range of careers, taking leadership roles in their communities throughout the US and Israel.
The text-based Judaic program and college preparatory academic program includes STEM, Honors-Level Courses, Dual-Credit Courses, Student Leadership, and Community Service. It expands the students' skills and sparks their interests beyond the four walls of the school.
Your gift will allow us to build on our success, to improve and expand our program and to meet the needs of the rapidly changing world and our growing student population.
Please Donate to Mesorah Today.
We would like to thank our friends for their generosity in supporting this campaign by pledging $75,000 in matching funds to multiply all gifts made up to $75,000.
Alumnae Families & Grandparents
Dr. Mordechai & Elaine Bodenheimer
Chaim & Beth Broodo
Stanley & Phyllis Jaspan
Larry Rich & Wendy Lavine
David & Shelley Lurie
Joseph & Bella Salzman
Joseph & Dorit Schonbrunn
Yaakov & Malka Shuster
Kenneth & Lynda Wegodsky
Anonymous
Corporate Sponsors & Parents
Centurion Anesthesia
Anonymous
Friends of Mesorah High School
Moshe & Ariella Bush
Bill & Jeri Finkelstein
Beverly Kornell, In Memory of Her Husband, Bernard, OBM
Laura Miller & Steve Wolens
Jeff & Tara Schiller