CCHF Shalom Challenge Day Seven: The Secret to Dealing with People Who Are Dead Wrong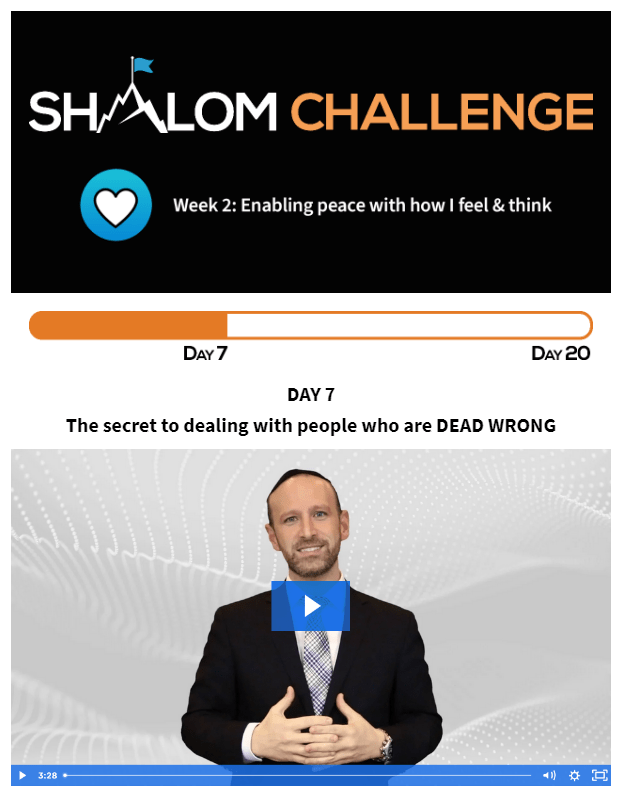 Today's challenge: He's human. Just like me.
Next time someone else makes a mistake, remind yourself of a mistake you once made.
Are you still likeable & valuable? Then so is he.
Me: "You seriously voted for Biden?!"
You: "YOU'RE a trump supporter?!"

Me: "Why can't you wear a mask?!?!?!?!?"
You: "Are you really taking that vaccine?? Do you know the risks?"

Me: "Schools should be closed, we're in a pandemic!!"
You: "Do you understand the spiritual damage of closing yeshivos?!?! It's worse than the pandemic itself!!"

The world has become so divided. Conflicts are heated to the point that our relationships are literally being torn apart over our differences.

So…
💡 What's the secret to dealing with people who we think are dead wrong?
💡 How can we NOT let what divides us totally tear us apart?

Often, when we think someone's wrong, we tend to get so angry—
GRRRRRRRRRRRRRRRR!!!!
— that we completely dismiss them as a person. We even feel hatred toward them because of the crazy conclusions they've come to.

But…
Have YOU ever come to a wrong conclusion?
Were you ever SURE you were right, and in the end it turned out you were wrong?

I'm sure you did! We all have! 😏

And maybe you were a little upset with yourself.
Okay, maybe more than a little.
But I bet you didn't completely write yourself off, or hate yourself because of it.

Why not?

Because you know that you're human. And that you make mistakes.

So if I can be tolerant of my mistakes, then why can't I be tolerant of yours?

We all want to live in a world where we're not completely judged by our mistakes, but if we want to live in that world, then we need to build that world….

The Torah says to love your friend like yourself, but can you REALLY love someone else like yourself? The Bal Shem Tov explains that the same way you love yourself even with your flaws, so too can you love others with theirs.

A chassidish man once told me that all his sons were observant, except one, who completely veered away from judaism.

I asked him: "How did you respond?"

He said: "Every Shabbos, we set a place for him at the shabbos table, and every shabbos we call and invite him to come home for shabbos. Sometimes he comes home. Why do we do this? Because even though we think he's making a mistake, he's still our son. And we love him as a person, even if we disagree with his opinion."

We all have it in us!

So just try…
➔ try to love the person… behind the opinion.
➔ try to love the human being…beneath the human error.
➔ try to love your friend…even with their flaws.

Maybe they've made a mistake, but there's a good person behind that mistake.

And I know you have it in you to see THAT person.